About The Book
I Like My Brown Skin Because… was written after a four-year-old asked his grandmother (the author, Julia Davis) if her brown skin ever made her sad. This must-read book is an answer to his questions. The author makes it clear that skin of all colors is good, and it is healthy for you to like the skin you are in. Then she highlights her special reasons for liking her brown skin.
Mrs. Davis starts in West Africa and ends in 21st century America as she highlights victories, difficulties, courage, perseverance, moral strength, and bravery experienced by African American people who survived and thrived during their journey through history.
I Like My Brown Skin Because… is a conversation launch pad for parents and children of every background – black, white, yellow, brown, red, and mixed. It is for families who want their children to live in a way that honors all people and to understand the history behind today's "racial" tension. "Our children will never be color blind, but they can be color-appreciative if we help them."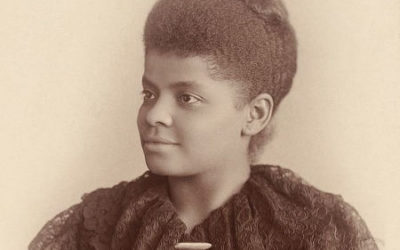 As the NAACP gets underway this week in Cincinnati, Ohio, we celebrate the birthday of one of its founders: Ida B. Wells. Ida B. Wells was amazing!!! She was born into slavery on July 16, 1862. she was a founding member of the NAACP, she supported voting for women,...
read more

"When Julia Davis's grandson asked her if her brown skin made her sad, Davis was inspired to write a book about her pride in her brown-skinned forebears…Davis goes all the way back to Africa…slavery…and…the Civil Rights Movement…I love her positive attitude…I Like My Brown Skin Because…will inspire young readers (old ones, too!) and instill an appreciation for…Black people throughout American history. It's a hall of heroes; pick your role model… It's a great book! Buy it for your kids."
Rating: 5 out of 5 stars
– Paul Mastin, Reviewer
Independent Book Publishers Association


"Uplifting. Smart. Hopeful. This book reminds and expands our thinking on race today. I am so glad it is for grades 4 and up. I will order this book for our library."
Rating: 5 out of 5 stars
– Linda George, Librarian
Net Galley


"As a third grade teacher who is also a parent of two African American children and one European American child, I look at a lot of books for children and wonder what is the purpose of the book. With
I Like My Brown Skin Because…,
I see the purpose. It is to help families like mine."
-David Miller

"In I Like My Brown Skin Because…, the author answered the questions of a child by combining history with hope, encouragement, wisdom, and basic human values. This bridge-building book allows children to see that people of all colors helped remove the evil institutions of slavery and segregation by working together. We can continue working together to remove the injustices of the present. This is a book of peace and hope."
-Nacim McIlhargey Sajabi

"I love this book. It gives children hope. Julia Davis has translated the difficult subject of "race" into clear and concise language for youngsters in fourth grade and above. It comes from the loving heart of a grandparent who uses her voice to create a narrative based on her background and experiences. By letting children know that we all have choices about how we treat each other, I Like My Brown Skin Because… helps usher in a future that allows people of all colors to be treated with dignity and respect."
-Lauren Heaton

"This book is well-written, easy to read, and full of valuable information. The Precious Children sections are so personalized that they make children feel as though their own grandparents are talking to them. I can't wait to read it to my students."
-Mikasa Sims

"At first I thought I Like My Brown Skin Because… was only for African American children. I was wrong. After reading it, I googled "children and racism" and found a blog on parenting.com by a white woman who was mortified when she asked her small daughter why she didn't like a nanny applicant. The child answered with a question, "Because I don't like her brown skin?" This book is equally for European Americans – most of whom do not want their children to live with the terrible limitations of prejudice."
-Barbara Kneipp